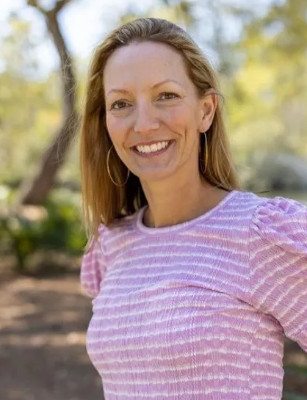 A passionate artist, Jeanne regularly gets completely absorbed into her work and loses all sense of time and place, completely swept up in the act of creating what she pictures in her mind. A woman whose process is generally to visualize her art and consider it for a period of time before she ever starts to put paint onto canvas, she's also been known to "just wing it" when she really feels whatever she's seeing in her minds eye.
A Navy brat, O'Neal now lives in Georgetown with her husband and two daughters. She loves painting the different landscapes of the Lowcountry, from the Southern oaks draped in Spanish Moss to the stunning sunsets and incredible clouds out over the marshes. "It's in my soul", she says.
Formerly an elementary teacher, O'Neal has taught art education to the younger students of a private school in Paweys Island, SC for the past four years. Jeanne has also taught student canvas painting classes in Greenville, SC.. Her smaller works can be purchased at various boutiques in Greenville and Pawleys Island, while her larger works are represented at Perpsective Gallery in Mt. Pleasant, SC, and both the Georgetown Art Gallery and Art Harbour in Georgetown, SC.